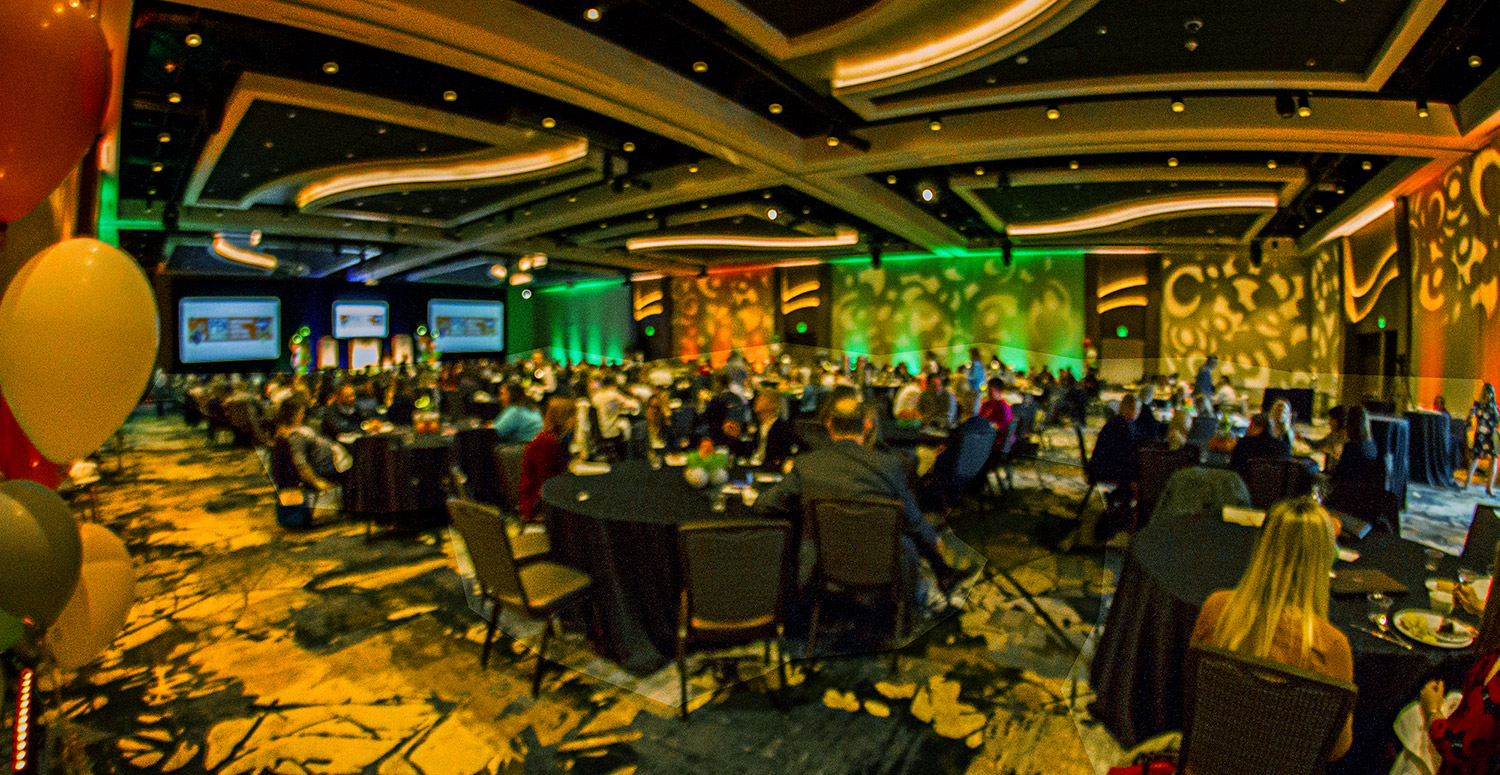 Learning events that help individuals, organizations, and communities improve performance and achieve excellence.
PEN Offers a variety of upcoming events — webinars, hybrid breakfast forums, workshops, conferences!
Learning events include short, one-hour breakfast forums; one- and two-day workshops; live stream and video-on-demand events; and conferences. All content for PEN learning events has been vetted, and all events are deeply discounted as a benefit for PEN members.
Promote professional and leadership development.
Share best practices and insights regarding organizational improvement and performance excellence.
Promote networking with other leaders and professionals interested in continuous improvement.
PENworks
PENworks is the largest, most powerful conference focused on performance excellence in the region.
Learn best practices from dozens of local, regional, and national organizations on the journey to excellence.
Explore methods, tools, and insights from speakers in all sectors: businesses, healthcare organizations, education institutions, nonprofits, and governmental agencies.
Explore best practices in leadership, strategic planning, customer focus, use of measures/data, workforce engagement, innovation, resilience, operational excellence, and many, many more!
Network with hundreds of leaders and professionals committed to continuous improvement and achieving performance excellence.
Gain inspiration, energy, and momentum to start, sustain, or accelerate a journey to excellence!
Thank you for attending PENworks 2023!
Check back for 2024 details.
Fall Conference
PEN hosts a conference (or "retreat") every fall that focuses on a specific and timely topic. The fall conference boasts a blend of practitioners sharing best practices with consultants and trainers who provide in-depth sessions for hands-on learning and application.
Previous topics include innovation, employee engagement, leadership, change management, resilience, and managing stress. With over 250 attendees, this is a unique opportunity to learn about a specific issue with professionals from education, business, healthcare, non-profits, and service organizations.
WEBINARS & BREAKFAST DISCUSSIONS
Knowledge Forums are monthly breakfast sessions that allow participants to network and learn with leaders and professionals who are sharing information on principles, processes, and practices that improve the performance of organizations, individuals, and/or communities.
PEN-on-Demand
(Livestreaming & On-Demand Videos)
Can't join us in person, no worries!
PEN-on-Demand is a free digital library of over 150 recorded past sessions. Search for topics that represent challenges or strategic objectives for your organization or team! Check out this powerful resource by visiting here!
PEN offers a growing number of digital programs as an alternative to attending events in person, offering:
Flexibility – of where and when you hear the content.
Convenience – avoid the hassle of commutes for busy professionals.
Application – attend as a team in your organization to facilitate learning and application to your environment.
Live stream our live breakfast discussions or online webinars every other Thursday! Just visit our event calendar and register to participate by stream/Zoom. Free for members ($20 for non-members).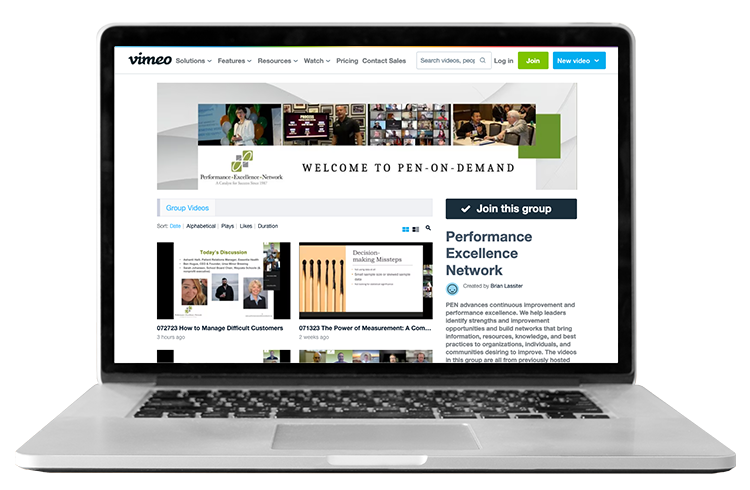 WORKSHOPS
PEN workshops are longer learning events (half-day or longer) that focus on topics important to driving continuous improvement and performance excellence.
Workshop topics are relevant and current.
Facilitators have been vetted as qualified/experts by PEN.
Workshop sessions are open to PEN members (at a 50% discount) and nonmembers.
Workshops offer deep learning on techniques to improve your organization, your leadership, and your results — on topics such as effective leadership, customer focus, strategy design and execution, organizational measurement, workforce engagement, innovation, process and operations improvement, conflict resolution, and many, many more!
Roundtables
PEN Roundtables are uniquely designed to accelerate performance and improvement within participants' organizations.
Specifically, the goals of these roundtables are to:
Share ideas and solutions across organizations.
Solve real business problems in a collaborative format.
Explore best practices from regional, national, and international experts.
Enhance leadership skills and build long-term relationships with like-minded individuals.
Promote value beyond your investment of time/money – provide a measurable ROI.
PEN Roundtables:
Facilitated.
Join together leaders and professionals from a wide variety of organization types, including business, education, healthcare, non-profits, and government.
Both directed and organic in the topics that are discussed.
Use outside resources such as Harvard Business Review articles, case studies, and guest speakers to provide rich content for participants.
For more information or to explore what cohort will work for you, please contact us today.
LEAP
PEN's "Leading Excellence & Achievement Program" (LEAP) is a unique, invitation-only, one-year, cohort-based leadership development experience, centered on learning, benchmarking, and networking with other leaders on the journey to excellence.  The foundation of the experience is based on the Baldrige Framework, though some participants may come from organizations just wanting to learn more about its use and value.  There are many benefits of participation:
Experience accelerated (and applied) leadership development, exploring how the principles of excellence have been implemented in a diverse set of organizations – businesses, healthcare, education, nonprofits, and public sector agencies.
Learn insights and best practices from high-performing local and national organizations, many of which have received top Awards from PEN, Wisconsin Center for Performance Excellence, and the Baldrige Program.
Explore how best practices in leadership, planning, customer focus, measurement, workforce engagement, and operational effectiveness can translate to your organization, helping you to address strategic challenges and/or improve organizational outcomes.
LEAP begins at the PENworks conference and concludes at the following year's conference, with four full-day facilitated sessions in between, rotating among participants so that a site visit and tour are possible.  Each module explores one or two Baldrige Categories and includes a discussion with a national Baldrige recipient.  The LEAP experience also includes a capstone project, which offers participants the chance to explore how the concepts can be applied to a real challenge/opportunity within your organization; LEAP also includes one-on-one coaching in between sessions from one of the two cohort facilitators.
If you're interested in learning more about this powerful experience, contact us so we can consider you in the design of the next cohort!
Partner Events
PEN is pleased to announce upcoming events of partners who offer forums that advance continuous improvement and performance excellence.
"I wish I had discovered Baldrige a couple decades earlier."
-Jack Priggen, CEO, Cardinal of Minnesota, Ltd