Today, organizations continue to experience challenges like never before: staffing shortages, inflationary pressure & economic uncertainty, managing a virtual/hybrid workforce, navigating supply chain issues, and managing through accelerating change are but a few of the many challenges facing today's leaders.  But – with the complexity of organizations – where does one start? How do you know on which areas to focus? And how to do you sustain the improvement over time?
The Performance Excellence Network is pleased to announce a powerful workshop: The Principles of Performance Excellence: Baldrige 101.  The workshop will be hosted online and will be facilitated by Michael Garner of Momentum, a Minnesota-based consulting firm.
The Baldrige framework provides a systems perspective for continuous improvement and advancing performance excellence. The Baldrige "Criteria for Performance Excellence" — which were revised in 2023! — reflects the "leading edge of validated management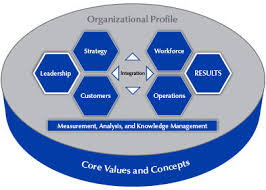 practice," against which any organization can measure itself to identify and prioritize improvement opportunities.  This workshop will walk through the Baldrige Framework, will provide examples of tools and approaches that align with Baldrige, will "connect the dots" by showing how other improvement tools complement Baldrige, and will explore best practices from other organizations on the journey to excellence.
Workshop based on the new 2023-24 Baldrige Criteria.  If you are interested in becoming an Evaluator with our Performance Excellence Award, new Evaluators must take Baldrige 101 as a prerequisite.  But this workshop is open to anyone wanting to learn more about the power of this Framework!
Cost is $325 for members ($650 for non-members). Discounts available for teams of 3-4 from the same organization registering at the same time ($300) as well as teams of 5+ ($275).  One copy of the Baldrige "Criteria for Performance Excellence" book is included.
Explore this validated framework to help you navigate today's challenges — surviving today and thriving tomorrow!
Facilitator Biography
Michael Garner is a native Minnesotan and was raised on a 4th generation family farm near Atwater, MN.  Michael currently resides near Rochester, MN in the rural town of Kasson.  Michael has an extensive background in adult education and human resource development, as well as experience and passion for continuous improvement tools and frameworks, particularly the Baldrige Criteria for Performance Excellence.  With a strong skill set for training and facilitation, Michael is eager to use his talents to enhance the performance of your organization.
Michael's experience as a trainer and adult educator spans over 25 years.  During his time at the University of Minnesota studying
Human Resource Development and Adult Education, Michael explored the strong links between workforce education and organizational development.  As he moved forward with his career, Michael had the opportunity to combine his passion for helping others to learn with his knowledge of implementing change and improvement frameworks.